A welcoming, vibrant island city: Victoria BC is a wonderful family destination
The first time Jodie and Anthony visited Victoria was during our honeymoon in 2010. In 2022, we came back to Victoria—as parents. Our short stay was long enough for the kids to make clear they wanted to come back to this beautiful, historic island city. Along with a wonderful hotel we stayed in, we've put together a short list of where to stay in Victoria BC with kids. The picks below are properties we'd book for our next family trip to Victoria.
What is (and where is) Victoria, BC?
Victoria is a waterfront, walkable, a small city that's not too small, full of history and natural beauty.
Located in the far west of Canada, Victoria is the principal city on Vancouver Island. It's not to be confused with the city of Vancouver itself, which is on the mainland. The city is on the southern end of the island.
Victoria is a "just right" city: Small enough to feel approachable and explorable, without being overwhelming. Big enough to offer a range of attractions and serve many interests. The city is full of both history and modern amenities. You can use time in Victoria as a jumping-off point for towns and natural spaces throughout Vancouver Island. Or catch a ferry to any of the Southern Gulf Islands, which lay just north of the Canada-US maritime border.
Why you should trust us
Travel is our family's school sport. In addition to two trips to Victoria (one of which was in partnership with the wonderful folks at the FRS Clipper ferry), our family of four travels the world full-time. We've popup camped from Southern California to the Oregon Coast, and we've road-tripped throughout many of the Western US States. The North American West Coast is one of our happy places.
We prioritize real family trips that other families could see themselves taking. We travel on a budget. The places we visit, where we stay, where we eat, and what we do are based on what we like and on what we can afford. And that's one of the things we like about a place like Victoria BC. It has lots to do, and families can find things that fit their interests and their budgets.
Family friendly things to do with kids in Victoria
British Columbia's safety, natural beauty, vibrant cities, and ease of access from the US Pacific Northwest make it a great choice for families. Here's how we'd suggest you start your family trip to Victoria:
If coming from Vancouver BC, take the ferry over.
If coming from Seattle, book a ticket on the FRS Clipper TKLINK. The 3-hour sailing is an experience all itself, with gorgeous views of the coastline and islands.
Tour the entire city area. Grey Line Hop-On Hop-Off sightseeing tours leave from out front of the Fairmont Empress Hotel. You can also figure out local bus routes for cheaper.
Along with touring the stellar Natural History Museum, go to the Thunderbird Park story pole area, to the left of the museum area. Not only does this get everyone outside, the story poles give some insight into First Nations culture, storytelling, and craftsmanship.
Wander Chinatown and Fan Tan Alley. This area is full of cool shops and cafes. And yes, it is fun to stand in narrow Fan Tan Alley, reach out your arms, and touch both walls.
Have lunch on Fisherman's Wharf and check out the boat houses along the docks.
These are just a few ideas of things to do with kids in Victoria. Depending on how much time you have to be in the city, you'll find plenty to do. For example, the next time we come to Victoria, we plan to spend more time at Fisherman's Wharf, properly visit the museum, and explore more of the city's lush parks.
Family friendly hotels: Where to stay in Victoria BC with kids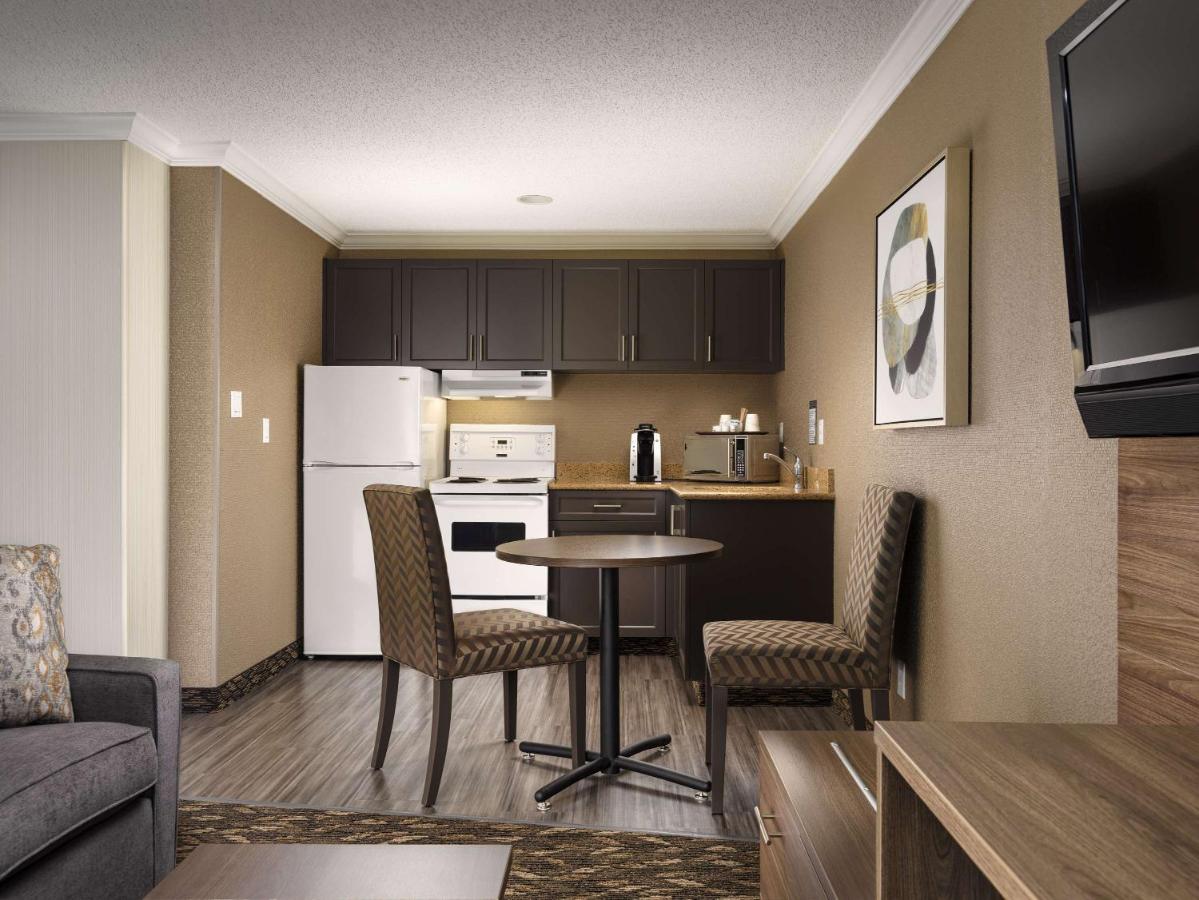 On a family trip to Victoria, we stayed at the Best Western Plus Carlton Plaza Hotel. The central location in Victoria's Lower Johnson district, or LoJo, is just a few minutes walk from Chinatown, the waterfront, and arts venues. This quiet, lovely hotel had a useful kitchenette with a microwave and fridge. We also had plenty of room as a family of four to spread out and have some space.
On our checkout day, we had the entire day to explore Victoria until our early evening sailing back to Seattle on the FRS Clipper. The staff tucked away our bags in their secure storage area for free. This made it much easier to explore Chinatown on foot. We also had gotten Gray Line hop-on hop-off sightseeing bus tour passes for the family, and they were good until mid-afternoon.
Great location for exploring Victoria
After wandering Chinatown, we hopped on the bus, rode around Victoria, and dined on fish and chips at Fisherman's Wharf. Just across from Fisherman's Wharf, Connor and Aster romped at the playground Fisherman's Wharf Adventure Play. The fascinating structures and central whale feature made for enthralling make-believe about pirates and sea adventures. We finished up our time in Victoria with a wander through the story poles at Thunderbird Park. The stories and craftsmanship left us wanting to learn more about First Nations peoples and how they used these poles to communicate information and to share stories.
This Best Western was fully renovated in 2020. While breakfast isn't included in the stay, the wonderful Ruby restaurant serves breakfast and lunch in the same building. Or, just a couple of blocks up the street, there's a good ole Tim Horton's. We took advantage of that, so the kids could have their first Tim Hortons donuts.
Other Victoria, BC hotels and motels
Of course, Victoria offers many places to stay in various parts of the city. There are times we may want to be on the water, and take in views of the Salish Sea. Sometimes we choose accommodation based on an area that we want to spend most of our time exploring. All of the properties say they offer free wifi and have family rooms available (configurations vary from suite-style rooms, to a pullout sleeper sofa).
As we went through hotels in Victoria, consistently we found ourselves coming back to properties that were close the attractions we want to explore, such as:
Victoria Bug Zoo
Maritime Museum of British Columbia
Miniature World
Royal BC Museum
Thunderbird Park Victoria
As we plan our next family trips to Victoria, BC, here are other hotels we have on our short list.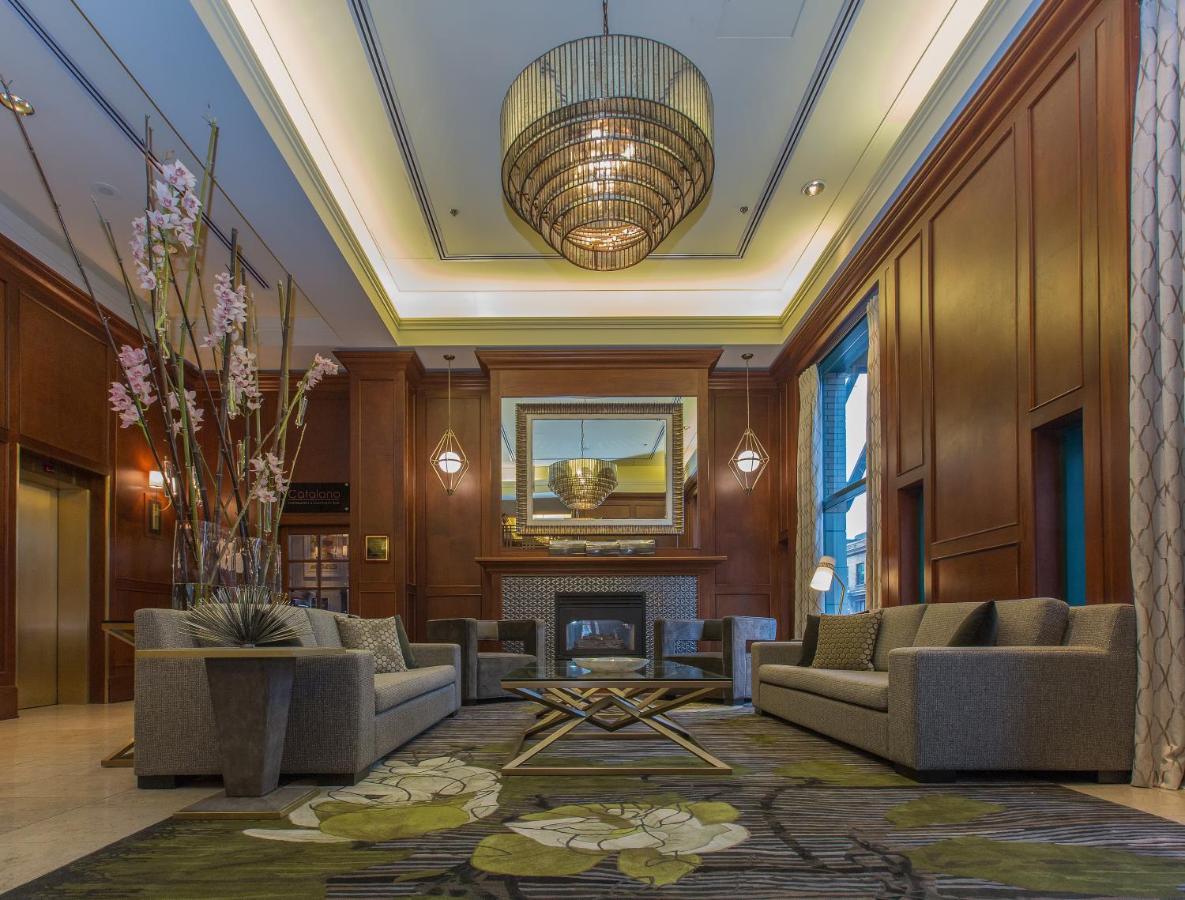 Hotels that are near the water are a priority for us. We love the idea of being closer to Victoria's Inner Harbour. The Magnolia notes that it has a fitness center. The "fresh fruit upon arrival" is a nice touch. 
What really catches our eye about the Magnolia, though, is the proximity. Plus, we like that it sounds like we could easily work remotely on the property. Rooms have good desk spaces, plus the lobby looks like a comfy spot for relaxing with a book, or knocking out some business tasks.
We've stayed in small hotel rooms, and our family of four knows how to get on well in a small space. But whenever we can, we love to have a bit more room. With bright blues, a well appointed kitchen, and a spacious sitting area, Chateau Victoria looks like the four of us could relax, work, and easily spend time together while feeling like we've got a bit of breathing room, even when we're all in the room.
Some rooms offer a private balcony as well. Given the Chateau Victoria's proximity to the waterfront, we'd definitely try to get a balcony room, especially if it has a western view of the harbor. Or, we can also happily content ourselves in the on-site swimming pool or hot tub. We're flexible.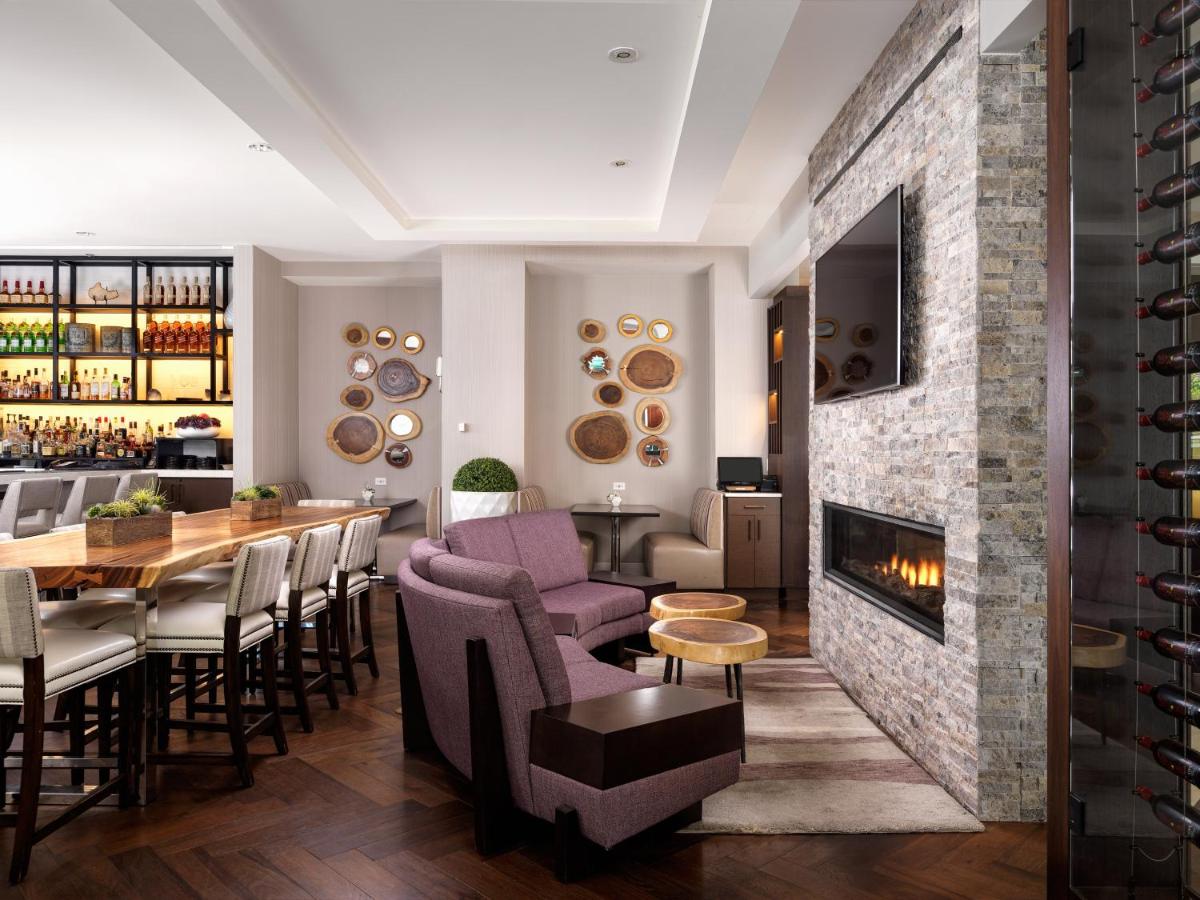 Anytime our stay can include not only an excellent view but also an indoor pool and a fitness center, that's a huge bonus for our family. A pool extends our ability to be active and get a change of scene, even when we're ready to be more at the hotel and less out and about. Plus, having a fitness center on site makes it easy for Anthony to start the day with a bit of yoga, or maybe he'll take the kids to the pool while Jodie has some time in the room.
But where could we easily see ourselves winding up the most? Chilling in the squashy purple chairs in front of a fireplace. Some of the Marriott's rooms have mountain or harbor views, and we'd see about snagging one of those as well—along with seeing how the breakfast stacks up with its guest reputation of "superb."
As much as we like getting out and about in a city like Victoria, it's always nice to know if we have good options for dining in. Sometimes we parents also like to work with the kids on them staying in the room by themselves while we go down to the on-site restaurant or lounge. With multiple restaurants (including a pizzeria) and a British-style pub on the property, along with a selection of suites, this DoubleTree would be an excellent contender.
When getting out and about, the intriguing Craigdarroch Castle is only a couple of kilometers, or about a mile, away, and that's a spot we want to check out next time we're in town. From the sounds of reviews and the description, this hotel has excellent walkability to area attractions and destinations:
"The location of this hotel is perfect for exploring the city on foot. It is central to the waterfront and the pedestrian zone in downtown."
Okay, we have to say up front: There's a good chance the Fairmont Empress is punching far above the weight of our family budget, but under the right circumstances, it'd be really fun to stay here. The ornate grounds and interiors would be eye candy to explore, plus the Empress's renowned traditional afternoon tea service would be a great experience for us and the kids to share.
When you arrive in Victoria, the Fairmont Empress Hotel is one of the most prominent sites along the waterfront. Opened in 1908, this historic, storied hotel is one of Canada's grandest remaining grand railway hotels. Plus, attractions such as the Royal British Columbia Museum are just a few minutes walk, and the museum is one of our priorities for our next Victoria trip.
Plus, we'd have the on-site amenities we love as a family, such as an indoor pool and fitness center. Or, when we're not on the rooftop looking out at the city and harbor, Anthony might just spend a bunch of time in the lobby gazing at the stained glass and Victorian details.
Book your family vacation or getaway to Victoria, BC
The US Pacific Northwest has been our home for many years. We are glad that we can now spend more time traveling with the kids not only throughout Washington and Oregon, but into British Columbia. Fortunately, this family friendly city by the sea has wonderful hotels that can meet the needs and budget of the family traveler.
Victoria combines First Nations, Canadian settlers, British culture, and Northwest remoteness in a way that we've never seen anywhere else. Just as our kids have made it clear to us that they want to experience more of what this genteel city on Vancouver Island has to offer, we hope that our hotel picks help you find the right place to stay on your family trip to Victoria, BC.